OFFSHORE & TRAWL SUPPLY AS VALDEROY, Norway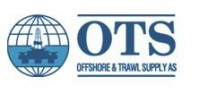 OTS is a Norwegian manufacturer of synthetic fibre ropes of extreme strength, providing products for operational installations in the oil and offshore market. The OTS factory, situated near by Aalesund/Norway, is one of the most modern in Europe, fitted with the latest production lines, capable of obtaining the best from high tech fibres, and producing ropes up to 350 mm diameter.

unselect all/select all
You have 0 products selected
Nylon Multicore
Send enquiry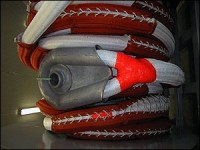 Melting point: 500°F - 260°C
Fibre content: HT Nylon
Specific gravity: 1,14 (non floating)
Water absorption: 5-10 %
Elastiv elongation: 25 % (at break)
UV resistance: Good
Shrinkage: up to 10 %
OTS Protective Jacket
Send enquiry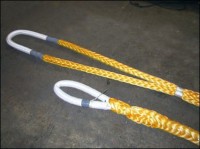 Excellent resistance against wear & tear.
Made of Dyneema® or Polyester fibres.
To be used on entire rope, in eyes or on smaller parts with high abrasion.
Can be used on rope from dia 16mm and up.
Can be used in 2-3 layers for extra protection.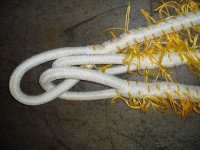 Gives Rope a faired shape
Tied to the rope by hand, or automatically braided into the protective jacket